Historical Context
Basketball is a high energy game that involves immense athletic skill. It is a sport that requires arguably the highest concentration of both athleticism and hand-eye coordination. So, understanding the game from both a physical and mental discipline is essential to success.
On the surface, whether watching a game at an NBA arena or the playground, it seems simple: pass, dribble, run, jump, and shoot. However, each of these practices is a principle of science; specifically, the science of physics, math, and the law of motion. Because of these factors, the game and its equipment has transformed over time.
When the game was invented in 1891, there were only 13 rules. To-date, there are over 100 rules. Significant changes during this time have included: soccer-ball-to-basketball or use of a ball that bounces and easy to control; the number of players on-court; court boundaries; dribbling (versus not dribbling); the elimination of the center jump after a made basket; 3-point line; and no dunking for a period of time.
The soccer-to-basketball change was immediate, and the science behind it makes sense. Particularly, adding bumps to a smooth-surfaced ball to induce friction; subsequently, slowing the ball down and/or creating a ball ideal for players to grip. Moreover, a player can effectively handle the ball without fear of losing control whether passing or shooting to the intended target.
The changes around the number of players on-court, center-jump after a made basket, and induction of the 3-point line were certainly momentous factors. Factors to produce continuity between the competing players/teams in a concentrated space. In the end, the results have yielded a game enjoyable to players and spectators.

Advancements
Today's equipment and apparel is light-years from the game's inventor Dr. James Naismith and his original game plan. Players want to maximize their ability to get-off-the-floor and be quick (lateral and unilateral) yet remain comfortable and protected during play. Consequently, the technological advances to shoes, socks, shorts, shirts/uniforms have been immense over the last three decades. Advances with the premise to not only regulate a player's movement and temperature but monitor a player's heart rate and brain activity so coaches can effectively assess "internal and external" factors affecting players throughout the course of the game.

A piece of technology that has enhanced the game for players and coaches are applications to record, view, and assess. Using a device such as a smartphone or tablet, a coach or player can track and chart shots during an individual's workout. One of the most popular applications on the market today is HomeCourt, an application utilized and referenced in the STEM Sports Basketball Curriculum – Module 7.1 – "Shot Tracking with Technology". It is a productive tool to observe and reflect a player's progression and/or areas in which he/she needs to advance their game.
The HomeCourt application is just one of many, many examples of technological advancements in the game of basketball, however, it is a tool that uniquely encompasses each component of STEM, and is effectively utilized as part of the STEM Sports®️ Basketball Curriculum. These examples include the following:
[S]cience: an application/tool that provides systematic and structural analysis, encompassed and supported by aspects of the Technological, Engineering, and Mathematical world.
[T]echnology: an application that can capture not only a statistical breakdown, which includes hot and cold points via percentage on the court, but records players so he/she may review their shooting mechanics as well as other finepoints that need work.
[E]ngineering: the ability to design and construct a virtual application of this capacity is remarkable, requiring a distinct and solid skill set from a Software Engineer.
[M]ath: statistics are an essential part of all sports — especially basketball. This application (photos below) will track Field Goals, Free Throws, 3-PT percentages, and much more… using artificial intelligence!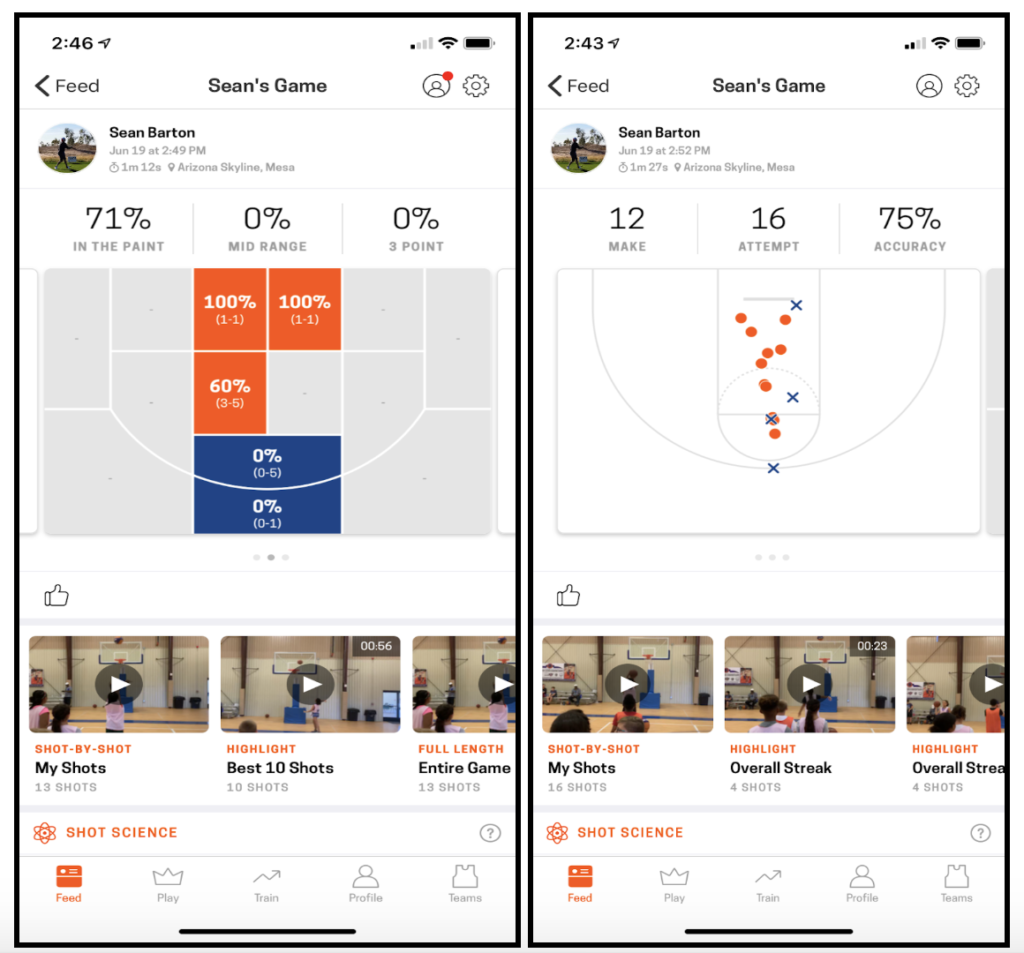 This is not only a valuable tool for players, but a useful resource for coaches from a practice and conditioning standpoint. Yet as it relates to in-game planning, are there factors of STEM that play a role for coaches and players alike to effectively strategize?
Strategic Approach
The history of the game has no shortage of plays from an offensive, defensive, transitional, and sideline/inbound perspective. Plays comprised of angles, motion, and spatial awareness, some more comprehensive than others. In other words, the ability to engineer and execute a plan to induce continuity between all five players is vital to success; the Triangle Offense provides a good scope and sequence from both an engineering and mathematical lens.
Created many years ago by former USC (University of Southern California) Coach Sam Barry, the triangle offense has been utilized by several teams at the collegiate level, most notably the immensely successful women's teams at the University of Tennessee and the University of Connecticut.. However, it really took shape when Tex Winters, former coach at Kansas State University, developed it extensively. Winter's notoriety and positive results came from his time as Assistant NBA Coach/Special Assistant with the Chicago Bulls and Los Angeles Lakers. During his tenure, these teams won a total of nine championships with the triangle offense at the forefront.
To simplify, the success of the triangle offense involves the below, comprised of engineering and geometrical factors:

Patience: the ability to construct the triangle, which includes topside and rotational players, and is essential to establish proper spacing; subsequent to "read and react" based on the configuration of the defense.
Spacing: a team's ability to space the floor is essential. Particularly, within the triangle offense where there is limited space within the half court set — requiring players on the triangle-side to set and obtain 15 to 18 feet of spacing to initiate and execute the offense; thus, requiring the defense to defend within a greater space.
Ball Movement and Motion: a rule of thumb that should be a constant within each offensive system; the velocity of the ball will always exceed the velocity of players. Unfortunately, this is seen less and less with the athleticism/potential of today's players. Meaning, 1-on-1/off-the-dribble play has become the norm; not ball and player movement and/or utilizing all 5 players as a cohesive unit.
Good or bad, the athletic ability of players has increased significantly, producing a more individualized, faster paced game. With that being said, this style of play, or strategic approach, has decreased team play and/or the need to implement a game plan central to engineering/mathematical principles.
Giving Back
The National Basketball Association was founded in the 1940's and now has 30 teams. Recently, the NBA has decided to use their power to give back to youth by starting a youth basketball development program in India.
The Kings and Pacers are scheduled to play the first NBA game in India on October 4th in front of 3,000 children. This game will impact five under-resourced schools in India. Pairing with American Indian Foundation (AIF), the NBA is bringing improved education to schools and students in Mumbai.
According to an article in Hindustan Times, "students and teachers will have access to new Smart Classrooms, STEM Resource Centers and a Robotics Lab outfitted with new technology, digital STEM curriculums and training, and improved infrastructure for school facilities, as well as the newly-constructed basketball court. Additionally, Reliance Foundation Jr. NBA programmes will be launched at each school for both boys and girls."
The NBA and AIF are bringing students science, technology, engineering and math opportunities through basketball. Although on the surface basketball and STEM could not seem more different, the game revolves around science. By connecting these two things, students will be given a hands-on approach to improve their STEM literacy in a unique, intriguing way.
The Pacers CEO, Chairman and Governor Herb Simon said that they are excited to continue their partnership with the AIF and other countries around the globe.
MARCH MADNESS 2020
With Selection Sunday coming up on March 15th and tournament play following soon after, educators and parents have the opportunity to use basketball as a way to engage children in STEM. At STEM Sports®, we have a whole STEM Basketball curriculum devoted to using basketball as a way to facilitate STEM learning.
Sixth grade teacher Katie Castle from Columbus Academy uses basketball as a way to teach her students math concepts. The students are tasked with tracking made and missed shots to calculate players shooting percentages.
"In the beginning, they want to compare shots made to shots missed, but then they realize that's illogical, because it has to be about the amount of shots that they took. I haven't seen sixth-graders get that concept more solidly than during this project," Castle said.
This is a great example of how using sports can give students a more tangible way to conceptualize complex STEM topics. March Madness 2020 can be a great way for students to learn about STEM whether it is in the classroom or at home! Some STEM focused activities related to basketball and March Madness are:
Bracketology: calculating the winning percentage of different teams during their season and the tournament.
In-game shooting percentage of each player.
Calorie calculating: pick a player, find his/her height and weight to calculate their calories burned during the minutes they played.

Equation: weight in KG x MET (metabolic equivalent of task) x hours of exercise.

Calculate the number of miles a team has to travel during the duration of the tournament.
These are just a few great ways basketball, and March Madness, can be used to get children interested in STEM! By using sports as a facilitator of education, students are able to combine something they like and is familiar to them with STEM concepts that will help them in their future education and jobs.
Conclusion
The game has significantly changed over its 125-year history. A game comprised of science, technology, engineering, and mathematical components. Yet a game that has transformed by prescribing to a more rapid, 1-on-1 style of play. What will the next 125 years look like?